Warabi Hanasaka
Japanese
花酒 蕨
Romanised
Hanasaka Warabi

Vital statistics

Position
Member of the Supreme Five Swords

Private Aichi Symbiosis Academy (Student)

Age
15-16
Birthday
March 26th
Sign
Aries
Status
Alive

Physical attributes

Height
140 cm
Weight
37 kg

Portrayal




Japanese voice
Rina Hidaka
English voice
Juliet Simmons



Warabi Hanasaka (花酒 蕨 Hanasaka Warabi) is one of the Supreme Five Swords (Tenka Goken) at The Private Aichi Academy.
Character Profile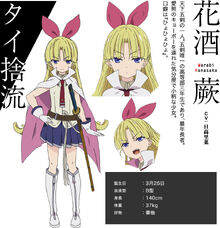 Appearance
[
]
Hanasaka has very long straight blonde hair that she wears with a pink bow. She has a petite frame and looks younger than she is. She wears a white sleeveless shirt with a maroon tie and a blue skirt. She has a katana that she wears on her left side in a belt. she also wears a cape that is white on one side and pink in the other. She wears knee-high silver boots.
Background
[
]
Abilities and Powers
[
]
Master Swordswoman: Hanasaka has excellent proficiency in Taisha-Ryū. Her skills combined with her speed and agility makes her a formidable swordswoman. She could corner Onigawara Rin a fellow member of the Five Supreme Sword with great ease.
Expert Martial Artist: Hanasaka is very proficient in kicking techniques of Taisha-Ryū.
Expert Markswoman: Hanasaka has great skill in Shurikenjutsu. She could throw short blades with precise accuracy.
Enhanced Strength: Hanasaka has superb arm strength, she could freely wield her Katana while maintaining great speed and agility.
Enhanced Speed: Hanasak has incredible agility and speed, her mobility is greater than Onigawara Rin.
Trivia
[
]
Quotes
[
]
"Fool!"
"Hyo! Hyohyo" (Hanasaka Warabi laughing)
Notes
[
]
References
[
]